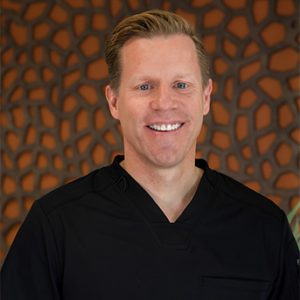 Dr. Michael C. Tew received his undergraduate degree from the University of Utah and graduated with his DDS from Virginia Commonwealth University in Richmond, Virginia, in 2001. His pediatric specialty training was completed at the University of Texas Health Science Center in Houston in 2003. Dr. Tew is board certified as a pediatric dentist and has been honored throughout his dental training with awards and scholarships for his clinical and academic excellence. Through continuing education and advancements in materials and technology, Dr. Tew strives to provide the best comprehensive care to his patients.
Dr. Tew is originally from Bountiful and now lives with his wife and five children in South Jordan. He is an avid skier, biker and triathlete.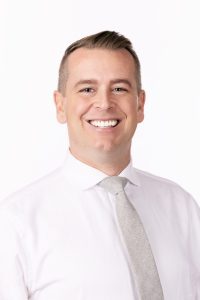 Dr. Doll has been practicing dentistry since 2009. He and his wife, Jen, have eight kids (four boys and four girls). Most people who know him would say he always has a smile on his face. He is board certified by the American Board of Pediatric Dentistry and did his dental school at the Arizona School of Dentistry and specialized in pediatric dentistry at the Massachusetts NYU Lutheran Medical Center residency.
He likes to laugh and have fun. He also does not sweat the small things in life and gets along well with those around him. In his spare time, he enjoys cartoons, drawing, snowboarding, surfing, fishing, road trips, barbecue food, car repairs, lobster diving and being with his family.